Seedpod usually has openings a few times a year.  Please email membership@bcc.coop for further details.
Seedpod is a 12-bedroom housing cooperative located near Fields Corner in Boston, MA. It's the first house owned by Boston Community Cooperatives.  The house is a classic Boston triple-decker which we have been actively fixing up since the coop formed in 2007.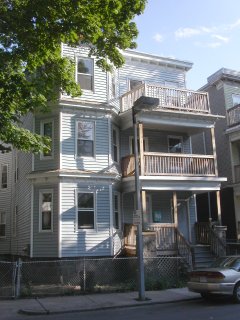 Some of us moved here from other coops, while others are living in a housing co-op for the first time.  We strive to have a diverse membership that is actively inclusive of people of all ages, professions, sexual orientations, genders, races and abilities.
Current house members range in age from nine-years-old to mid-thirties, and include community organizers, students, educators, artists, and tech workers. House interaction ranges from weekly house meetings to more casual gatherings such as house dinners five nights a week, movies and board games, tending the house gardens, and attending neighborhood events.
Seedpod operates by a consensus model – all members have an equal say in every decision.  We collectivize the purchase of food to save costs while increasing quality and selection, and hold regular house dinners.
We strive to be active participants in our neighborhood. We regularly attend local neighborhood meetings like the Five Streets meeting, and support local community organizations like Viet-AID and the Dorchester Community Food Co-op.
If you're interested or just want to learn more, please email us at membership@bcc.coop.